Spring Tip for Healthier Seniors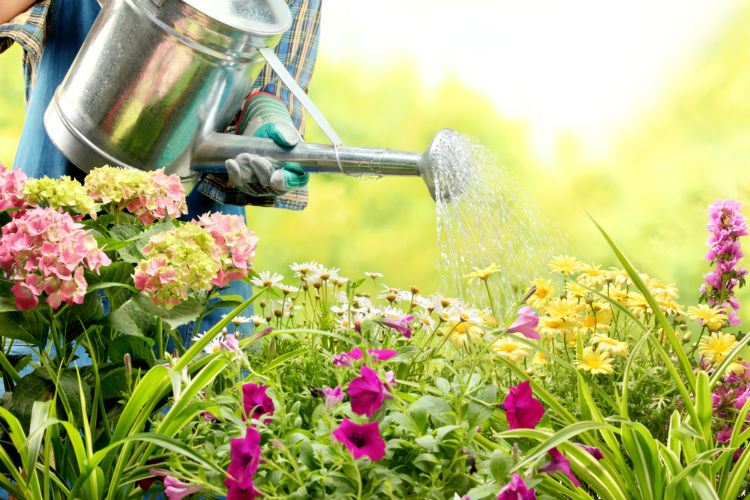 Spring is here, even if the cold, snow and ice outside says otherwise. Many seniors have been largely confined indoors over the winter months because of the cold and slippery conditions. It has left many with a more sedentary lifestyle for the past 5-6 months.
With the coming of Spring, comes more opportunities for many seniors to get outside and become more active. Taking walks is always a great way to get outdoors and get some exercise, but when the walk is done, all you have left are sweaty clothes.
There is another activity that can help provide more than just exercise for seniors and it's one that I enjoy every year and it's also very rewarding and leaves you with far more than just sweaty clothes.
Gardening!
It can be flower gardening with the reward of seeing all of the beautiful flowers, along with the butterflies, hummingbirds and other critters drawn to the fragrant blossoms.
I have about 116 named varieties of daylilies, and about 30-40 unnamed daylilies around my house. Most are right in front of my house, with a few around the mailbox, in front of the electric transformer box, along both sides of the house and in a garden right off the back patio. There are also some daffodils, crocus, tulips and marigolds mixed in. Most of these don't require a lot of care except watering and weeding. It's recommended for most seniors to use a stool or something to sit on while you weed, as it's easier on the back and knees.
In addition to the flowers, I have some raised vegetable gardens in the backyard and am building a new one this year that is even more raised than the others. Depending on what you want to grow, they don't necessarily require a lot of room.
For instance, I have 3 raised beds that are 1 foot wide and 10-foot long. They are spaced about 2 feet apart. In these, I grow bush cucumbers. They are supported by a frame made of PVC that sticks inside the corners and middle and then I use sisal twine tied around the PVC to support the bush cucumbers.
I use the same kind of long narrow raised beds for cantaloupes and watermelon. I built a trellis above each bed and vine the plants up the trellis. As the fruit grows, I tie slings, made of cheese cloth, pantyhose or similar fabric, to the trellis and then support the fruit in the sling so they won't get too heavy and fall off the vines.
Do you like tomatoes? How about a raised bed 3 feet wide and as long as you want to make it? I use PVC as a frame and then the sisal twine to support the tomato plants.
The same sized raised beds also work for onions, beans, carrots and more.
Space still limited? I've use plastic storage tubs (35-50 gallon sized) to grow carrots, potatoes, sweet potatoes, broccoli, cauliflower and radishes in. I drill about a dozen holes, about ¼ in diameter, in the bottom and then put a piece of garden fabric in the bottom. It's best to have the tubs raised on something that will allow extra rain water to drain out of the bottom. I use wood pallets and depending on how far you want to bend over depends upon the number of pallets. Fill the tubs with your soil preference, plant and water.
Once the gardens are built, the hardest part is keeping the weeds out. This is where the daily exercise comes in. If done daily, it's easy to keep control of the weeds and get some fresh air and exercise.
Depending on what you plant, harvesting is always fun. I don't have a big yard but manage to plant and harvest more than what my wife and I can eat. This allows us to share with the kids, neighbors and friends. I think the sharing is almost as rewarding as eating the products of my labors.
There are many reports out there that say that gardening is a great healthy activity for seniors, as long as you don't over do it all at once. Do a little each day. It provides fresh air, exercise, keeps you more flexible, provides healthy eating and great social interaction when you share, which also has its rewards for a healthier life.
If you live in an apartment or somewhere where you don't have a yard to garden in, ask around as a growing number of communities have community gardens. Or, find a friend with space and yard and offer to help them garden. For those that are able, gardening is great for seniors.